About Me | The Animal Help Ideas Author

By Susan Donaldson, B.A. (Hons), Animal Campaigner
The page tells you about me, what inspired me to put this website together, and how, and why, I practice what I preach.

Motivation For Building This Website
The motivation to build the website was my constant distress at the ongoing cruelty and suffering that humans put animals through daily, throughout the world. It made me feel despair and helplessness because I felt I was unable to help these animals as much as I wanted to.
Like many people, I desperately wanted to do as much as I could to help, but did not have enough disposable income to donate much, so felt I could do very little.
That is why I decided to look in to finding as many ways as possible to help stop animal cruelty and suffering, suitable for anyone, no matter how little money they had.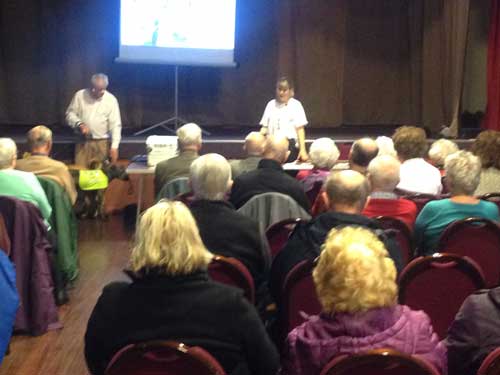 About
Me doing a fundraising presentation talk at U3A (University Of The Third Age) for my local animal rescue
My website is dedicated to all the ways I have found that people can help animals. I will keep updating it with more, as I find them. The website has a number of different sections, and includes information about pet adoption, and fostering and sponsoring pets.
This is because huge numbers of pets are abandoned by the owners they loved and trusted, every year. The pets in animal pounds, that aren't lucky enough to get life-saving spaces in rescues, must go to their deaths feeling so frightened, alone and unloved. That breaks my heart.

Return to the Table of Contents

---
Raising Awareness
I also wanted to raise awareness of the massive scale of suffering animals experience every day throughout the world, so that people realised just how many animals need our help.
To achieve this, I point people towards aidanimals.com. Many people are completely unaware of the horrors that are happening to animals at the hands of humans every single second of every day. Once people know, they are better equipped to help animals by spreading awareness.
Return to the Table of Contents

---
About My Background
For much of my life, I have felt so much empathy with animals that I have desperately wanted to save them from suffering. I was also interested in Art and Design, and earned a BA Honours Degree in the subject. I tried to base as much of my degree work as possible around the subject of stopping animal cruelty.
Furthermore, I wanted to use what I had learned in my degree to help animals, so I have designed a range of greetings cards to help fund raise for animal rescues, which can be found in the Fundraising Store.

About
Take a look at The Fundraising Store
I have also designed a range of T-shirts where the wearer can spread awareness about animal cruelty just by wearing the T-shirt.
The cards and T-shirts can be found in the Fundraising Store, along with many other fundraising items. Other items include jewellery, hand created hanging signs and hand created pebble characters on box canvases.
I also paint a number of pebbles promoting veganism, then hidden them in public places for anyone to find.

For a number of years, I volunteered with my local animal rescue. Since then, a chronic health condition unfortunately made me unable to continue.
I knew I needed to find other ways I could continue to help animals, so I now help different animal rescues and fund raise online. Read the section below to see how I have helped animals in other ways suggested on this site too.
Return to the Table of Contents

---
Practising What I Preach
I regularly undertake a number of the ways to help animals that are suggested on this site. Here are some of the things I do, and that you could do too.

Helping Rescues With Online Fundraising
When I am not suffering the symptoms of my chronic health condition too severely, I find items to donate to online fundraising events that animal rescues run on Facebook. I find them in charity shops, create them myself, or get them donated by other people.

I never go in charity shops where the charity funds animal testing. Animal charity shops are what I prefer, as when I buy items from them, it is raising even more money to help animals. I donate a portion of the fundraising store items from this website to the fundraising events too.
The fundraising events are great to buy gifts from. I buy from them all year round and give the items as gifts to friends and family on special occasions. I also manage groups on Facebook where animal rescues promote their fundraisers.

About
Animal Rescue Auctions On Facebook
Return to the Table of Contents

Home Check Volunteer

I am registered with the Home Check Volunteer groups on Facebook, and have carried out a number of home checks in my local area. These home checks are done for rescues all over the UK and abroad. They make sure their animals go to good, safe homes.
More people are desperately needed all over the UK, to do home checks in their local area. You can find more details about home checking on the Volunteer With Animals page.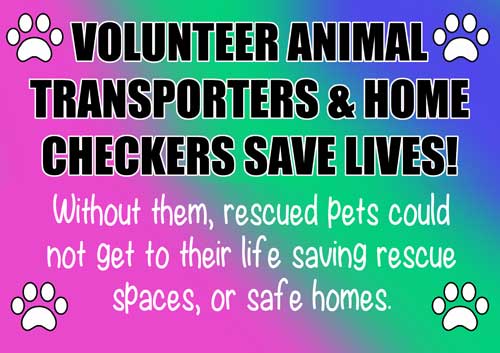 About
Volunteer Animal Transporters
Return to the Table of Contents

Animal Transport Volunteer
Before I became too often unwell, I was registered with Animal Transport Volunteer groups on Facebook. This is where people offer to transport an animal part of a journey.  Their journey may be from the pound to a life-saving rescue space at an animal rescue, or foster home. Sometimes, it is going from the rescue to its forever home. Without these transport volunteers, many animals' lives would be lost.
For more details about being a volunteer animal transporter, see the Volunteer With Animals page.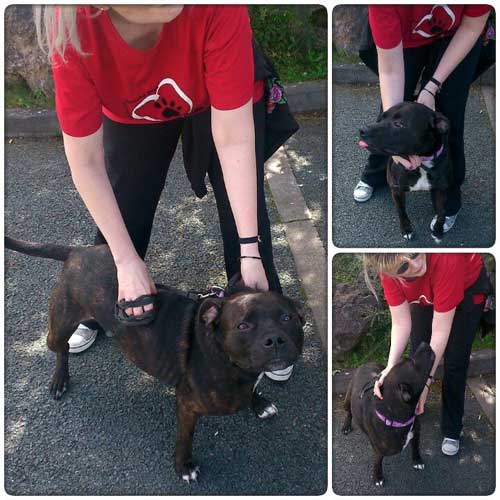 About
Me Transporting A Rescue Dog To Safety
Return to the Table of Contents
Cross Posting, Campaigns and Petitions
I cross post animals who are on death row in local authority pounds. I do this on social media sites such as Facebook.
It is to help find elusive rescue spaces for them that would save their lives. If more people fostered and adopted pets, and fewer people bought pets on a whim and then abandoned them, more life-saving rescue spaces would be available and fewer pets would be put to death.
On social media sites, I sign and share campaign posts and petitions, as well as other posts that raise awareness about animal suffering and what to do to help stop it.

Return to the Table of Contents

Clothes, eBay, Donating Items and Local Fundraising Stalls
I wear clothing items, and carry accessories, with information on them that spread awareness about animal cruelty. Some of the items I wear are from this site's fundraising store.
I sometimes sell items on eBay For Charity to raise money for animal charities. You can choose what percentage of the selling price you would like to donate to charity.
In addition, I donate used ink cartridges, and stamps, to help animal rescues and charities raise funds. I donate clothes and bric-a-brac to animal charity shops. Even damaged clothing can be used by some animal charity shops.
They sell them to textile merchants for recycling. Some animal rescues even have volunteers who use damaged or worn clothing to make items.
The items are either for the animals to use, or they are to sell in aid of the rescue. I have also donated new or unused items to animal rescues for them to use as tombola and raffle prizes on fundraising stalls.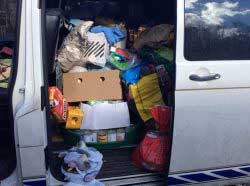 About
A Van Full of Supplies For A Rescue In Eastern Europe
I have volunteered as a fundraiser for a local animal rescue when I am well enough. A number of times I have organised for food, coats, leads and other items to be donated to poor rescues. Some of them have been in Eastern Europe. These rescues struggle to survive every day. Many are genuine, but be on the lookout for scammers too.
Return to the Table of Contents

Fostering, Adopting & Sponsoring Animals, & Keeping Them Safe Online
I fostered, and then adopted, a Staffordshire Bull Terrier (the softest breed ever!). I also fostered Monty, a Staffie cross. Him having a rescue space to go to meant a pound puller could save him from death row in a UK dog pound. Sammie was another lovely Staffie cross I fostered.
Without the fantastic pound pullers, cross-posters and animal transport volunteers, Monty, and many others would not be with us today.
A number of different elements of the animal rescue community came together to save Monty. See how animal rescue works for more details.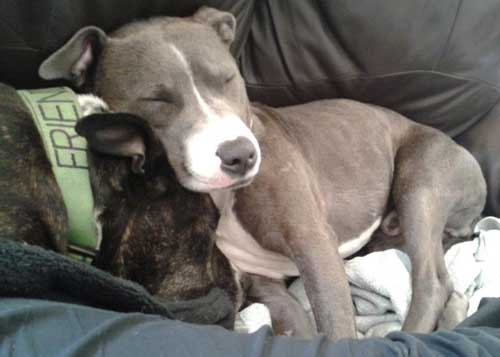 About
My Foster Dog Monty With My Rescue Dog, Cassie
My foster dog, Monty, was rescued from death row in a dog pound. He was frightened and confused, and just wanted love and security. He loved snuggling into my adopted dog. It was very rewarding when I ultimately saw him adopted and happy in a new home, with the other lovely dog I fostered.
I have also sponsored a number of animals through animal charities. Sometimes it has been in my name, and sometimes as gifts for others.
I am a member of a number of groups where people sell animals. On some sites, it is against their policy to allow the selling of pets, so I report the selling posts where the site allows.
When people advertise their pets for re-homing on social media sites, either free or for a low price, I respectfully let them know about the dangers of re-homing on social media sites. I encourage them to re-home through a reputable rescue that does thorough checks on potential adopters so that they know it is a safe home for the pet.
I have to be friendly and polite at all times; otherwise I could get banned from the groups.
When people post in social media groups saying they want to buy a puppy or kitten, I respectfully ask them if they would consider a rescued pet.
I tell them that they could actually save a life, and them adopting would make a life-saving rescue space available. That rescue space could go to one of the many pets in local authority pounds that will put to death if a rescue space does not become available. For them. I direct them to the list of animal rescues on this site.
When doing it, I have to be careful not to make anyone feel affronted. If I do, I have alienated them, and they will not be receptive. All they think about is how affronted I have made them feel.
Return to the Table of Contents

Street and Casual Activism
I have taken part in street activism, such as Anonymous For The Voiceless Cube Of Truth. My arms really ached, and my toes felt like ice, but it was worth it.
This is every day activism where, whenever appropriate, I engage people in conversation about some aspect of animal rights. I might be promoting adoption to dog walkers, encouraging veganism among friends or family, or talking about other issues.
I have to try not to end up a bore, though, so I don't do it all the time. I have to be non-confrontational and non-accusatory at all times. If I offend people, it makes them totally non-receptive to what I am saying.
Return to the Table of Contents

Humane Removal of Insects
It troubles me when people kill insects they see as pests in their home. Imagine giant aliens coming to earth and thinking that we are so small and unintelligent compared to them, crushing us won't cause us pain or suffering.
These "pests" are just going about their business, trying to survive, and do not know they are annoying people. A humane, cruelty-free way of repelling them is the perfect solution.
We had problems year after year with ants in our kitchen. We would gently scoop them all up and put them out the window all throughout the day. This took A LOT of time because there were so many of them!
We followed this advice:
Keep the kitchen free of crumbs and spillages
Put talc/baby powder around the edges of the room
Spray essential lavender or peppermint oil, diluted with water, all around the room and the areas they entered (but not directly on them).
Put trails of food for them leading away from the house.
The lavender oil and water mixture spray seemed the best. The peppermint oil spray made my eyes sting and water. The food trails may have helped a bit, as they disappeared. Unfortunately, those measures only worked for a year.
The next year, the ants were not affected by those measures. That's when I looked into the plug-in pest repellers. I looked on Amazon, so I could read all the reviews, and did a lot of research. The best ones had both ultrasonic and electromagnetic technology. They would vary their patterns so that the unwanted visitors did not get used to it.
I was very unsure about investing in one because the reviews could vary so much from one person to another. I was made even more unsure about whether buying one would be a waste of money or not, when I read that there is no conclusive scientific proof that these gadgets work.
When I decided on which one to buy, I was still full of doubts. This might be a coincidence, but within DAYS the majority of the ants had gone!  The odd one would wander in now and again for a while after, but since then, absolutely nothing!
We still see lots of them outside the house, but they don't come in any more. I want more people to know about these repellers so that it can be a happy, cruelty-free ending for the ants – or other pests – as well as for the people. This is the repeller I bought. A quick Amazon search finds many humane insect repellent's.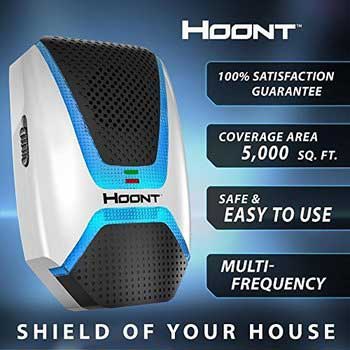 About
Cruelty Free Pest Repellent
Return to the Table of Contents

Veganism
Probably the one thing with the biggest impact I have done to help stop animal suffering is moving from a vegetarian to a vegan diet. It has involved me trying a lot of different vegan food products for the first time.
As I am not a great cook, I buy a lot of ready-made food. I have documented them, along with reviews saying what I thought of them, on Vegan Food Reviewed website. The aim of the site is to let people know what is available in the UK in the way of vegan convenience foods. I am still continually trying new vegan products, which I regularly add.
I definitely have favourites out of all the products I have tried, which include the following foods (some of which it is cheaper to buy in bulk). I also have some favourite vegan cosmetic products:-
The iChoc White Nougat Crisp vegan chocolate bar
This is also sold as the brand Vivani. It is very nice, but it is a lot nicer when gently warmed for a while. I tend to sit on it for a bit before eating it! Without doing this, it can be a little waxy and claggy in the mouth. I so often find vegan chocolate is not sweet enough for me, so was glad to find that this sweet bar was.

Plamil So Free Chocolate Orange Spread
This, in my opinion, is pretty near in taste to Terry's Chocolate Orange. It is "melt in the mouth", and sweet enough for my sweet tooth, whereas most vegan chocolate is not.
Mr Organic Chocolate & Hazelnut Spread
This, along with Nature's Store Hazelnut & Cacoa Spread, is the closest I have found to the taste of Nutella. It is not quite as sweet and creamy in taste, but I still find it delicious.
Beauty Without Cruelty Concealer Pencil
I have always struggled to find a concealer the right shade for my fairly pale complexion. From experience, I knew the Rimmel concealer stick in the ivory shade was the right shade for me, but I refuse to purchase Rimmel products now because they are not vegan/cruelty-free.
The Beauty Without Cruelty (BWC) pencil in the "Fair" shade is the best vegan and cruelty-free concealer I have come across for my skin. It's slightly pinker than the Rimmel Ivory shade concealer, but it is the nearest I have come across. I only wish it was available in a twist up pencil form, or in a concealer stick and pan-stick form.
I wanted to find a cruelty-free and vegan face cream with a high SPF because a high SPF is the only way I know that is scientifically proven to slow down ageing. I have found it hard finding one that will not leave my face looking shiny and greasy. Another issue is that most creams irritate my sensitive eyes too much.
I tried a number of different vegan products which promised a matte appearance, but came up against problems with them. One was a gel, but it was not good for putting make up over. Another started off with a matte appearance, but throughout the day, my face quickly became very shiny indeed. That one was the most expensive too! I ended up being able to taste another whenever I put it on. It tasted horrible and bitter. Another felt very dry and little bits of the product would roll up into tiny bits between my hand and my face while I was still putting it on. It took me forever to brush and pick all the bits off my face and hands.

The two I felt were best overall, were the Kiss My face 3 in 1 Sensitive Side SPF 30, and The Body Shop Skin Defence Multi Protection Essence SPF 50.  The Kiss My face cream leaves a sheen, but nothing that a bit of face powder can't cover. The Body Shop cream soaks in so well after a few minutes that you can't see any trace of it left. It does, however, irritate my eyes a little.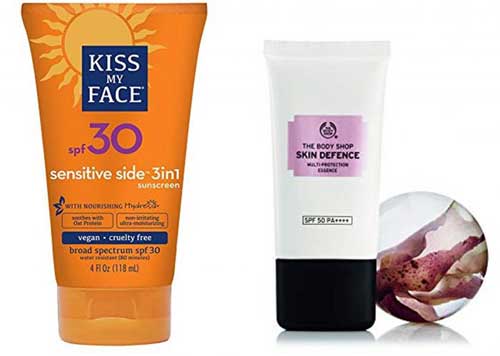 About
Vegan Skin Creams
Share With Others
Find Us On Social Media