Many Ways To Save a Pet
By Susan Donaldson, B.A. (Hons), Animal Campaigner
There are many ways to save a pet. Would you like to save a pet's life? If you scroll down, you will see a list of pages detailing many ways you can be part of saving innocent pets' lives.
Sponsoring, fostering or adopting a pet are just a few of those ways. If you can't do those things, you will see many other ways you can help.
You can also learn about many issues surrounding pet abandonment.
Many Ways To Save A Pet
My Former Foster Dogs Monty and Sammy
Pages In This Section Of The Site
Blow you will find pages in the Save A Pet section of the site, along with descriptions of each page.
Page Description: Explains how the MANY different elements of the volunteer animal rescue community work together to save as many innocent animals as they can. It explains how each individual task fits into the animal rescue process. You can volunteer for any of those areas.
Adopt A Dog, Cat Or Other Animal
Page Description: Details about pet adoption, answering questions you may have, and why there is such an overwhelming problem of pet abandonment, leading to the constant killing of so many adoptable animals.
Page Description: Learn all about pet adoption.
Page Description: Information about the vitally important and life-saving act of sponsoring or fostering animals.
So-Called Dangerous Dogs & Overlooked Shelter Pets
Page Description: Explores why certain dogs are overlooked when people choose pets to adopt, why certain breeds gain bad reputations, whether they are deserved, and why there are so many innocent dogs of certain breeds being put to death.
Adopt A Pet Here – List And Map Of Animal Rescues
Page Description: If you would like to save a pet, you can find animal rescues all over the UK and US on this page, including rescues near you. You will be able to go to their websites and see what animals they have available for adoption, sponsorship, and fostering.
Page Description: Pets from bad breeders, who often present themselves as responsible breeders, often have health and behavioural problems. This is because of thoughtless and irresponsible breeding practices that net the breeder more profit. It leads to pain and distress for the pets, and heartbreak & expense for owners.
Page Description: Find out why to spay and neuter, and how it means you can be responsible for saving huge numbers of animals from suffering.
Page Description: You can be responsible for helping to save the lives of abandoned pound dogs and cats, just by cross posting them online to help them find a life-saving rescue space. Find out how.
Spread Awareness – Posters And Flyers To Download And Display
Page Description: If you have access to a printer, you can help with the work of animal rescuers by spreading awareness.
---
MANY WAYS TO SAVE A PET
Save A Pet Section Overview
In this "Save A Pet" section of the website, you can find rescues to adopt from. You can also foster for them, or sponsor a pet through them.
You can find general rescues, or specialist breed rescues, whom only rescue and re-home specific breeds of pet. Around 1 in 4 dogs in general rescues and shelters are pure breeds too.
You can also find specific species of animals to adopt, sponsor or foster.
We look at why certain breeds of dogs are unfairly labelled as dangerous dogs, and at other overlooked shelter pets that struggle to find loving homes. These are the breeds most often the dogs put to death by pounds and shelters.
The majority of dogs killed in UK dog pounds every day are Staffordshire Bull Terrier types. Lurchers are often abandoned or killed if not good enough at hunting. Many dogs from the Greyhound racing industry are abandoned or subjected to horrific deaths.
In the US, the number of dogs put to death every year at pounds and shelters is thought to be around 4 million. Pit Bull Terrier types are in the majority because of over-breeding, and abandonment by owners. In addition, the breed has gained an undeserved bad reputation, which means they are hard to find homes for.
We take a look at bad breeders, and how they have deceptively legitimate and professional looking websites. Bad breeders can include cruel backyard breeders, puppy farms, and pet shops.
Pit Bull Terriers, like Trixie below, are a loving, affectionate and friendly breed, but certain humans give them a bad reputation because of how they train and abuse them. There are huge numbers of adoptable Pit Bulls put to death in the US, and the breed is banned in the UK.
---
The Problem Of Unwanted Pets
There are thought to be around 600 million unwanted dogs and cats in the world. Many of these innocent souls are put to death because there are not enough people willing or able to look after them.
There isn't enough room in local authority pounds, shelters, and rescues. This is because pets are being bred and abandoned at a higher rate than they are being adopted.
Many people think that only "problem" dogs are abandoned. In reality, the vast majority of pets are abandoned through no fault of their own, but instead because they were badly let down by their humans.
---
What Are The Reasons?
The problem of unwanted pets is, among other things, due to these issues:
Pets continually being bred by breeders, despite so many needing adopted
Newly bred pets being continually purchased by people, despite so many needing adopted
People abandoning pets
People not neutering their pets when no longer of use or convenient
The lack of Government legislation controlling breeding of pets
---
Who Is Responsible?
People keep breeding puppies and kittens for profit, but they only do this because people keep paying large amounts of money for them.
If there was less demand, there would be fewer pets bred. If people chose to save a pet by adopting instead, they would 1) rescue a pet and 2) free up a rescue space.
That would mean another abandoned pet could have its life saved by that rescue space. Another benefit is that they wouldn't be encouraging the breeding of more pets by financially rewarding breeders.
Nobody wants to admit responsibility for the awful situation. Everyone intends to pass the blame. The truth is, we ALL have a responsibility to do what we can to improve this situation.
We can do this by adopting, fostering, sponsoring, neutering and spreading awareness of the situation, instead of buying, breeding or abandoning pets.
---
What Happens To Abandoned Pets?
When abandoned pets are picked up by an animal control officer, they are taken to local authority pounds / shelters.
They only have a short time in these pounds and shelters before they are killed. If "No kill" rescues and shelters are full – which is usually the case – they have nowhere to go.
By deciding to adopt, or by sponsoring or fostering a pet, you will save a pet from death, as you will free up a life-saving rescue space.
If you cannot do any of these things, there are always other ways you can help, as shown in the image.
---
How You Can Help Save A Pet
You can help by adopting a pet, or by fostering or sponsoring a pet. If you have an unaltered pet, you can neuter or spay it.
If you cannot do those things, there are still things you can do. You can raise awareness online by sharing information you have found through this site.
You can help by cross-posting pets looking for rescue spaces (see the Cross-Posting page for details of what to do). In addition, you can spread awareness using posters and leaflets.
---
What Else Can I Do To Help Save Pets?
There is a huge problem of animals being put to death because they are abandoned by owners who did not realize the work and sacrifices involved in owning a pet.
The problem is also because too many people buy and breed new pets instead of adopting abandoned animals.
Raise Awareness
You can help by raising awareness of animal adoption, and of the issue of pet abandonment.
Also warn people about bad breeders, by sharing the information from this site on social media.
Making sure more people become aware of these issues is instrumental in helping to stop animal suffering.
Help Pets Being Given Away On Social Media Sites
Join groups on social media where people sell animals. Report posts that are selling pets, if it is against the policy of the social media site to do so.
Respectfully let people selling pets – especially for a low price or giving them away free – know about the dangers of doing so.
Politely encourage them to re-home their pet through a reputable rescue, as they do thorough checks and have legally binding contracts that the pet may not be passed on.
It is always most effective if you are very tactful in your communication.
Encourage People Online Looking To
Buy Puppies & Kittens To Adopt
With people who post saying they are looking for a puppy or kitten, respectfully encourage them to adopt from a rescue.
Let them know they can find rescues in their area on this page, and that there are general rescues, rescues for small breeds only, large breeds only, and rescues for specific breeds only.
Many people do not realize that nearly every breed has rescues dedicated to only them. So does nearly every species of animal and pet.
Let them know that they will be saving a life, and that the rescue space they make available by adopting a pet will save the life of a pound pet who would otherwise be put to death.
Let them know many pets in the pound are put to death because they only have a very short period of time to have their lives saved by a rescue space, and there are nowhere near enough.
Every adoption means another innocent pet has avoided being put to death feeling lonely, unwanted and unloved.
Many More Ways To Help
If you cannot help stop the deaths of innocent pets by adopting, fostering or sponsoring, you can help by cross-posting pets looking for rescue spaces (sharing them on social media).
Animal rescue shelters are also usually in need of volunteers to help in a variety of roles.
Even a small donation could mean the difference between an abandoned pet being saved or put to death.
Even just the price of a cup of coffee at a café, a cupcake, or a bottle of fizzy pop. The animals on the site also need cross posted.
---
How To Make The World A Better Place For Animals
Do you want to make the world a kinder place? Do you want to help stop terrified animals being put through horrific cruelty? You can do that.
Being an advocate for animals can be very emotionally draining, so it is vital you care for yourself too.
Have a look at this section of the website to find out how to be an effective advocate for animals, whilst making sure you keep your mind healthy, strong, and happy.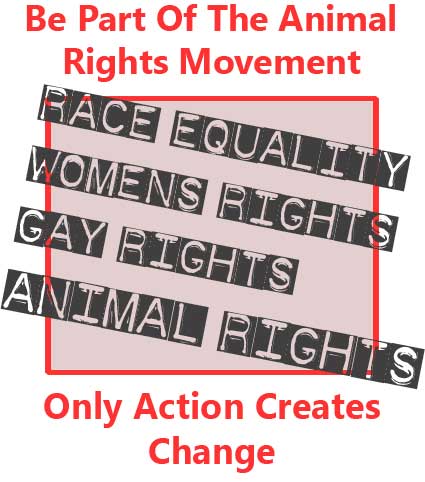 Many Ways To Save A Pet
Be Part of the Animal Rights Movement
Other Ways To Help Stop Animal Suffering
On this site, there are many varied ways you can help animals and help stop cruelty. In fact, there are so many ways that there is something for every personality type, no matter what their circumstances.
If you would like to learn more about why we so urgently need to help stop animal suffering, please see this website. It will allow you to broaden your knowledge of many types of worldwide animal abuse, giving you the ability to help animals by spreading awareness and answering questions people may have. Please be aware that you may find the information distressing, especially if you are a more sensitive person.
One great way to help animals is to share the information you have seen on this website. Doing so means more people could help stop animal cruelty, and that would make you responsible for more animals being saved from suffering. Together, we can help people help animals.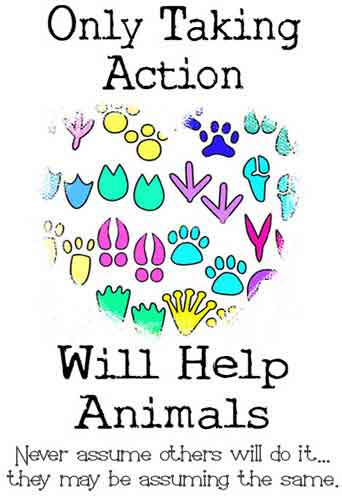 Only Taking Action Will Help Animals
Share With Others
Find Us On Social Media