Charity Gifts Fundraising Store
Charity Gifts Fundraising Store
By Susan Donaldson, B.A. (Hons), Animal Campaigner
A way you can help animals is to buy from animal charity fundraising stores, where you can get charity gifts, cards, and other items.
If you buy from animal charity fundraising stores whenever you can, instead of buying from rich chain stores, you will help animals in need.
You can buy items for yourself from fundraising stores, and they are a great place for buying gifts for others.
We are developing our own fundraising store, where you can buy charity gifts and cards. In addition, below, you will see where to find lots of other online fundraising stores in aid of helping animals.
In many of those places, 100% of the money goes to help the animals. It is always best to check how much of your money actually goes to helping the charity or rescue when you are thinking of shopping in them.
Charity Gifts and Cards You Can
Find At Our Fundraising Store
In our planned fundraising store, you will be able to buy goodies like unique hand painted wooden hanging signs, greetings cards, cushion covers, and jewellery, and you will be helping animals at the same time.
In addition, there are hand made Pebble Art Pebble Pets, each one unique, and T-shirts where the wearer helps raise awareness about the treatment of animals that many people will not know.
Again, the purchase of these helps raise funds to help animal charities and rescues.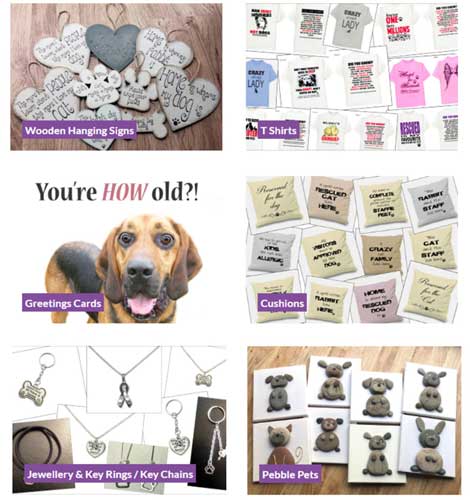 Charity Gifts and Cards You Can Find in stores
---
Buy Charity Gifts & Cards At
Online Animal Charity Shops
As well as our own planned fundraising store, there are many other online charity shops that sell goods in aid of helping animals. You can find a list of online animal charity and rescue shops on this site.
---
Buy From Online Auctions And Sales In Aid Of Rescues
There are many auctions and buy-it-now sales run by animal rescues and charities on Facebook. You can find them here.
---
You Can Still Help When Buying From Chain Stores
Whenever you do need to buy from rich high street chain stores, you can still do it in a way that helps raise funds for animals.
You shop with them online, and make sure you do it through a fundraising website. You can find the details here.
---
CHARITY GIFTS FUNDRAISING STORE
What Else Can I Do To Help Animals?
If you would like to learn about why we so urgently need to help stop animal suffering, please have a look at this website. It will allow you to broaden your knowledge of many different types of animal abuse in the world, making you more able to raise awareness. Please be aware you may find it distressing, especially if you are a more sensitive person.
Here at AnimalHelpIdeas.com, we are all about the many ways you can help animals. There are ways to suit every personality and circumstance, no matter what you like doing.
One great way to help animals is to share the information you have learned on this site. By doing so, you will raise awareness about animal cruelty and the many ways we can all help animals. Consequently, you will be responsible for saving animals from suffering. Together, we can help more animals :)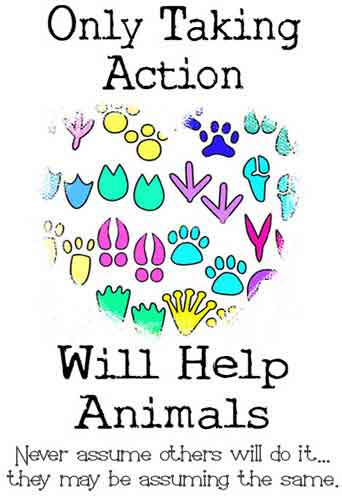 Only Taking Action Will Help Animals
Share With Others
Find Us On Social Media