Declutter Your Home And Help Animals
Declutter YouR Home And Help Animals
By Susan Donaldson, B.A. (Hons), Animal Campaigner
Would you like to declutter your home and help animals at the same time? You can, simply, by donating certain items to animal charities. You can find out on this page what you can donate, and how it will help the charity.
The animal charities will use them to do one of the following:
Sell
Use in the care of their animals
Fund raise with
Some animal charities and rescues that do not have shop premises still welcome donations of certain items. It is best to check with them to see what they need. You might be surprised by one or two of the things required by different animal charities.
It is said that a clutter-free house means a clutter-free mind. You can declutter your home, and mind, and all the while help animal charities and rescues.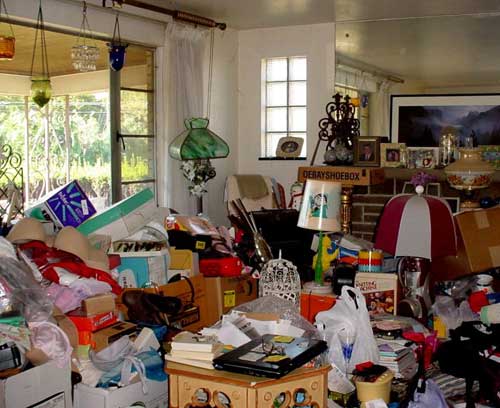 By donating items to animal charities and rescues when you declutter your home, you will give desperately needed help to animals at the same time
---
Declutter Your Home and Help Animals
Recycle Your Old Bras!
Carolina Waterfowl Rescue in the US need your old bras! Or, more specifically, they need your bra fasteners. The fastenings, called hooks and eyes, are vital to treat cracks in the shells of turtles.
The non-profit organisation see as many as 40 turtles a week with life-threatening cracks in their shells. Many are run over by cars, boats, and lawnmowers.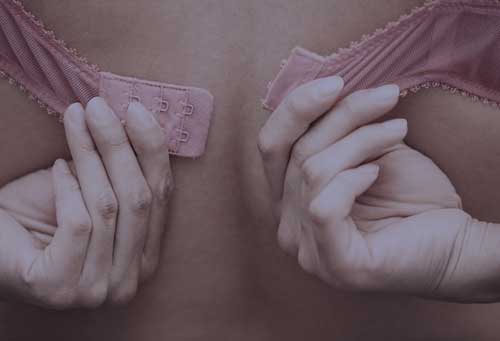 Declutter Your Home And Help Animals
Donate Old Bras
The rescue got the idea from another rescue organisation called Wildthunder Wildlife & Animal Rehabilitation, based in Independence, Iowa. They use the hooks and eyes with zip ties to pull the turtle shell together while it heals. If you know of a rescue that deals with turtles or tortoises, suggest the method to them, in case it is more effective than their current approach.
To help, simply cut the piece of your old bra that have the hooks and eyes on, and post them to Carolina Waterfowl Rescue, PO Box 1484 in Indian Trail, NC, 28079.
Return to the Table of Contents

---
Donate Unwanted Gifts And Declutter Your Home
Every one of us has received a gift that has ended up in a drawer or cupboard, never seeing the light of day. It would be so much better for that gift to be stopping animal cruelty and suffering.
Otherwise, it languishes unused, getting older and scruffier, and often, becoming unusable. What a sad waste, when it could have stopped animals suffering.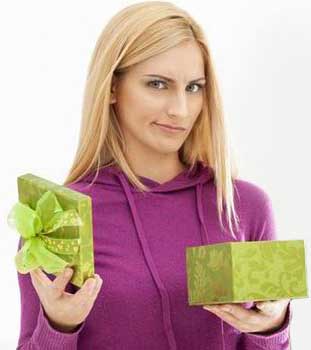 Declutter Your Home And Help Animals
Unwanted gifts are perfect for animal charity shops to sell. They can also be used by animal charities and rescues that do not have shops, on tombola stalls, in raffles, or in online charity auctions. 
It is win-win, as you get to declutter your home (and mind), and your donated unwanted gift(s) will help animals.

Return to the Table of Contents

---
Donate Unwanted Clothes, Bric-a-brac, And More, And Declutter Your Home
Animal charities rely on donated items to sell in their shops, or on car boot sale stalls. They welcome a wide range of items, including:
Clothing
Curtains and Bedding
Books
Toys and games
Ornaments
Other bric-a-brac.
They also accept items in a range of conditions. This gives you a great opportunity to declutter your home to do good for animals.
Check with animal charities and rescues that do not have shops whether they need items donated for car boot stalls they may hold.
Damaged Clothing & Textiles
Charities can sell donations of clothing and textiles in good condition in their charity shops. Some charities even welcome donations of damaged clothing and textiles. This is because they sell them to textile merchants to be recycled.
So, rather than throwing away worn and damaged clothes and textiles, check whether the animal charity accepts them. If they do, donate them in a bag labelled "Damaged – To be Recycled/For Textile Merchant".
If you enjoy crafting, you could use rags yourself to make items such as blankets and pet toys for animal rescue shelters and charities. See crafting ideas to help animals for details.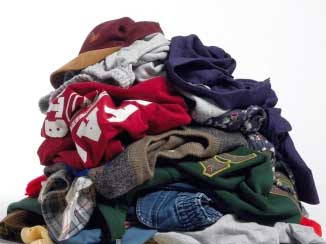 Declutter Your Home And Help Animals
Clothes in good condition, and damaged clothes, can both be of value to animal charity shops
Furniture
If the animal charity shop sells furniture, they will often pick up the item for you.

Electrical Appliances
For charity shops to be able to sell donated electrical items, they must, by law, have each of them tested for safety by a qualified electrician. This is usually far too costly, unless they have a volunteer who is a qualified electrician and is willing to undertake the task. Check with the animal charity shop you want to donate to.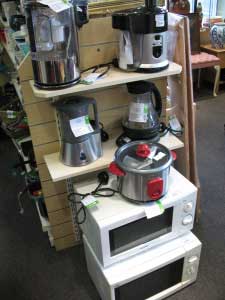 Declutter Your Home And Help Animals
Some animal charity shops are unable to accept donated electrical items
Some Animal Charities Without Shops Take Clothing
Some animal charities, such as Oakwood Dog Rescue, raise funds by selling the donations of second hand clothes, shoes, bags, and belts they get to companies who then ship them to developing countries. This means that even animal charities and rescues who do not have charity shops may welcome donations of clothing.
Selling clothes this way has proved lucrative enough for criminals to get in on the act. See the "Don't Let Criminals And Scams Get Your Donations" section of this page.
Return to the Table of Contents

---
Donate Food, Medicines, Blankets, Towels, Pet Coats And More To Animal Shelters
You can declutter your home by donating items to animal charities and rescues that they need for the care of their animals.
It will save them spending precious funds on them. Rescues will often have a list of items they require on their website or social media pages.
This is exemplified by the Animal Humane Society. Below are items most rescues generally need to be donated.

Medicines
Medical supplies are often needed, and some rescues are so in need that they even welcome out of date medicines. If you have a connection to a veterinary surgery, you could ask them what they do with their medical items that go out of date.
Charities who help animal rescues in countries like Romania, Serbia, Bosnia, Bulgaria, etc, are typically so desperate that they will accept donations of out of date medical supplies.
One such charity is Saving Romanian Strays. They also have a Facebook Group and Page.
Another is Twitchy Noses, which helps rescues in Bulgaria, which you can contact here, and this is their Facebook Page.
Ruff Start Rescue UK say they require medical supplies such as rubber gloves and hand sanitisers. Get in touch with them on either their Facebook page or group if you can help.
You should be able to find many more organisations helping poor animal rescues by searching online. Use a charity search engine, so you raise money to help animals while you search. You can also find them by searching on social media sites, and find out whether they can collect supplies offered to them.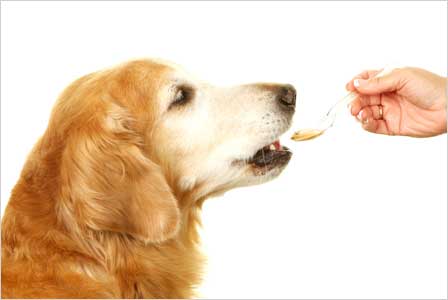 Declutter Your Home And Help Animals
Animal Medicine Pills
Pet Food
Many rescues are in desperate need of donations of pet food all year round to feed their animals. Sometimes they require specific types of pet food.
Some rescues in this country can be so well-supported that they can end up with more food donated to them than they can use. This can be because their residents may have particular dietary requirements, so they use more of some food than others.
Rather than these leftover supplies of food going lout of date and being wasted, you could arrange with the rescue for them to be donated to charities who work with poor rescues in other countries, or poor rescues in your own country.
Animal rescues will definitely not want it advertised that they have too much food, as this will put people off donating food to them, meaning people will not donate the food they really need either.
You will privately have to enquire with the rescue whether they have an excess they could spare.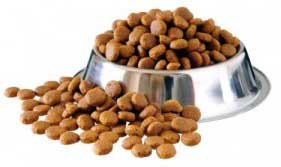 Declutter Your Home And Help Animals
Animal Food
Blankets, Towels and Pet Coats
Blankets, towels, and coats for the animals are needed, especially in winter. Waterproof animal coats are best if animals are kept outside. Dog collars and leads are also needed. Take the opportunity to declutter your home and help animals at the same time, by donating these things.
Some rescues get many donations of these things, whereas others struggle to get any. If you know of a well-supported animal rescue that may have an excess of these supplies, privately enquire with them to see if they have an excess they could spare to give to less well-supported animal rescues.
As with pet food, rescues will not want it advertised that they have an excess, as then people will be less willing to donate the things they use most. See above under "Medicines" for organisations who will collect supplies.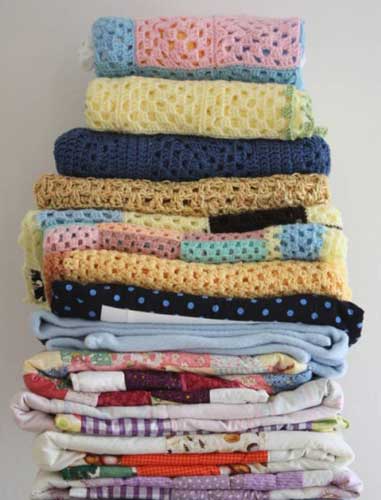 Declutter Your Home And Help Animals
Donated Blankets
Different items are needed depending on what animal a rescue takes in. At small animal rescues, food, cages, accessories, and bedding materials will be needed for the residents.

Newspaper & Shredded Paper
Some animal charities and rescue shelters, such as the Animal Humane Society, need donations of newspaper, as they line the floor of the animals housing with it. This means they can get through a lot of it.
They also use office paper that has been shredded into long strips for small animal cages and puppy enclosures. Maybe your workplace could help with that?
Return to the Table of Contents

---
Donate
Ink Cartridges, Stamps, Broken Jewellery, Foreign Currency, Etc
You can donate stamps, foreign currency, broken jewellery, empty ink cartridges, and more, to help animals. They will be recycled or sold to help animals. See the collect and recycle to help animals page for more details.

Return to the Table of Contents

---
Donate Your Skills and Time To Animal Shelters and Charity Shops
Donate A Skill Or Ability
If you have a skill or ability that animal charities or rescues could benefit from, you could donate that. For example:
If you are good at dog training, you could help a charities animals find permanent homes more quickly.
Offering free printing services for the charity's publicity or fundraising material, could really help them.
If you know how to run a website, offer to help update and manage the charity's website.
By offering basic DIY or maintenance skills, you could be a huge help by fixing things around the rescue.
Electricians volunteering their time can help immensely.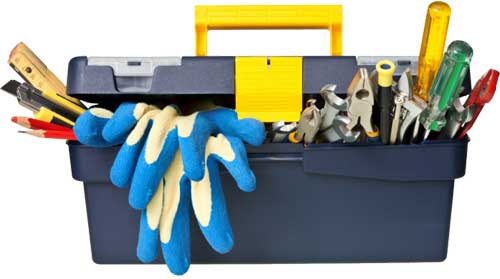 Declutter Your Home And Help Animals
Maintenance Toolbox
Even if you don't think you have any particular skills, just donating your time to volunteer in some way for the charity would really help them. Find out here about the many varying ways you could help an animal charity.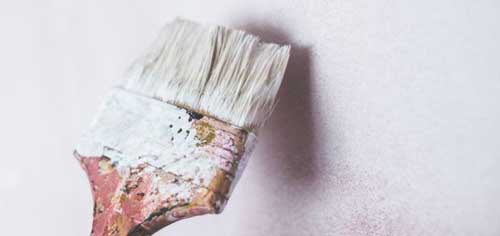 Declutter Your Home And Help Animals
Animal Rescues need help with all sorts of things, including maintenance
Return to the Table of Contents

---
Don't Let Criminals And Scams Get Your Donations
It is best not to leave your donations outside animal charity shops when they are closed. They often get stolen, vandalised, scattered or spoiled by the weather.

Charity Collection Bags Through Your Door
Be suspicious of people who post a charity bag through your door, asking you to leave the filled bag outside for them to collect. Criminals post exact copies of charity donation bags through peoples letterboxes. People think that by filling these bags with unwanted clothes, they are helping the charity on the bag.
It is always best to check with the charity printed on the bag to find out whether the clothes will actually go to them. Do not use the contact details provided on the bag in case those are the details of the criminals. Look up the charity's contact details online.
You can also check whether the collection van has the charity logo on it, and whether the collectors have ID badges. However, be aware that these can be faked. If you want to be sure the charity gets the clothes, take the bag to the charity shop yourself.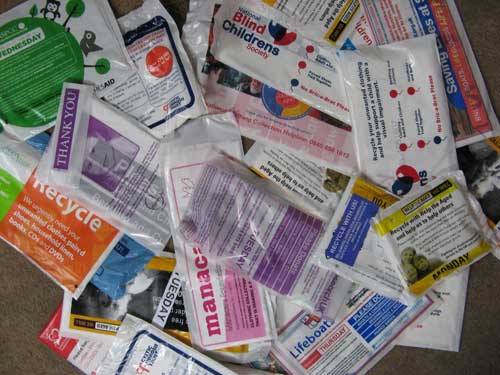 Declutter Your Home And Help Animals
Charity Bags
If you cannot drop your donations off at the animal charity shop when it is open, attempt to find out if the animal charity or rescue has another premises that would be able to take them.

Clothing Collection Banks
Many people use clothing recycling bins to drop their donations into. WARNING: Please be aware of fake clothing collection banks. Clothing can be worth a lot when sold overseas. This results in unscrupulous people illegally placing fake clothing collection containers, sometimes alongside genuine charity bins.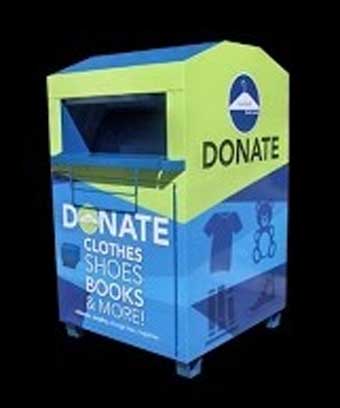 Declutter Your Home And Help Animals
Charity Recycling Bin
Some criminals use made up charities on the clothing banks. Check that the organisation name is a genuine charity, and that the same logo is used on the bin as the genuine charity uses. If a charity number appears on the clothing bank, check it is a genuine charity number and pertains to the organisation named.
Others, however, may be using the correct details for a charity. Telephone the charity using a number found on their genuine website and ask if they have a clothing bank in the location you have found it. Do not use the contact details on the clothing bank, as these may go to the criminals.
Return to the Table of Contents

---
Donate Fabric & Crafty Items To Help Donkeys

, 

Horses And Mules

There are charities that help donkey, horses and mules in countries where they are used as working animals. These animals suffer terribly, usually until the moment they die. You can help these charities ease the animals' suffering, and at the same time, declutter your home.

Egypt Equine Aid
EEA operate a free equine veterinary clinic for local working animals in Cairo, Egypt. They treat sick & injured horses & donkeys, and educate their owners about better animal husbandry.
EEA use blankets and saddle pads / numnahs to pad the backs of working donkeys, horses and mules. They can suffer excruciatingly painful wounds from the saddles and their heavy loads.
If you have any blankets, saddle pads or numnahs, volunteers take them over to Egypt in their luggage. Because of space being at a premium, they unfortunately cannot take thick blankets. If you have anything you think they could use, get in touch with them on their Egypt Equine Aid Supporters Facebook page.
They also welcome any medical supplies that could be used in the animal's treatment.

Declutter Your Home And Help Animals
Egypt Equine Aid Logo
The ASSWIN Project
The Asswin Project is a UK registered charity which works in and around Delhi, India. It gives medical care to injured and sick working equines – mainly donkeys. It also treats street dogs and other needy animals.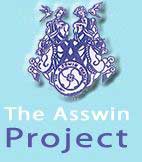 Declutter Your Home And Help Animals
The ASSWIN Project Logo
They appeal for fabrics, such as fleece, to pad the heavy loads of the donkeys. They are also grateful for any bits of tack (and bits). Furthermore, they need equine medicines, even if they are out of date.
Supporters also make different types of fly masks for the donkeys eyes. To achieve this, they need yarns, wool, faux fur, webbing, Velcro and beads.
Supporters also make items to protect the working donkeys from painful injuries they sustain over time. The donkeys are forced to work in agony with such wounds.
You can declutter your home by donating materials and items the Asswin Project needs to help animals.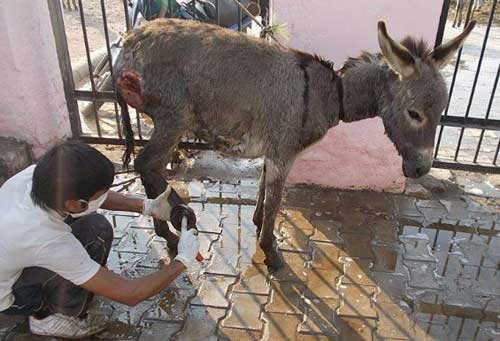 Declutter Your Home And Help Animals
A working donkey has its wounds treated by The Asswin Project
Both of these charities need volunteers to craft items to ease the animal's suffering.

Return to the Table of Contents

---
Donate Wool To Help Animal Rescues And Declutter Your Home
There is a page on Facebook, run by a lady called Sue, called Wool Needed For Rescues.
Sue, and visitors to her Facebook page, knit squares for patchwork blankets. Sue then sews them together. The finished blanket is donated to animal rescues who put it in their fundraising events to raise money.
To keep on doing this, Sue needs wool. If you have any spare wool lying around that you do not need, Sue could use it to help animals.
Return to the Table of Contents

---
Donate Plastic Carrier Bags And Declutter Your Home
Although many charity shops buy in their own carrier bags, some animal charity shops save those funds by using donated carrier bags.
Clean carrier bags are also needed by animal rescue shelters for their fundraising stalls, for people to carry away their prizes.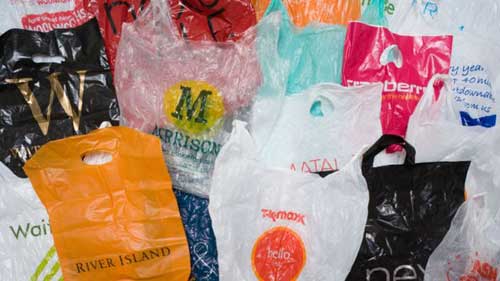 Declutter Your Home And Help Animals
Donate Plastic Bags
Since a charge for plastic bags was introduced in the UK, donations of carrier have greatly reduced.
You can help by donating used carrier bags that are clean and have no holes or rips in them. It is a chance to declutter your home of them, AND help animals.
Return to the Table of Contents

---
Donate Items Charities Can Recycle
By partnering with recycling organisations, many animal charities and rescues welcome a number of items you may find around your home. They include broken gold, silver or costume jewellery – including old earrings, foreign and even obsolete currency, and old postcards.
You can declutter your home by getting rid of them, and know that they are doing good at the same time. Find out where to send them, on the collect and recycle to help animals page.
You can even send old mascara wands to wildlife refuges. There, they will be upcycled to clean away oil, larvae, fly eggs, mites, infections, mud, and other contaminants from wildlife. Click to see where to send them, here.
Return to the Table of Contents

---
Learn Of the Many Other Ways To Help Stop Animal Suffering
On this site, there are many varied ways you can help animals and help stop cruelty. In fact, there are so many ways that there is something for every personality type, no matter what their circumstances.
If you would like to learn more about why we so urgently need to help stop animal suffering, please see this website. It will allow you to broaden your knowledge of many types of worldwide animal abuse, giving you the ability to help animals by spreading awareness and answering questions people may have. Please be aware that you may find the information distressing, especially if you are a more sensitive person.
One great way to help animals is to share the information you have seen on this website. Doing so means more people could help stop animal cruelty, and that would make you responsible for more animals being saved from suffering. Together, we can help people help animals.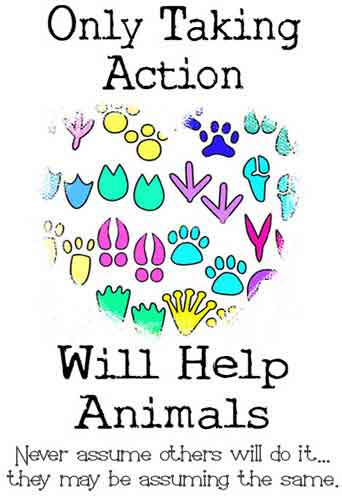 Only Taking Action Will Help Animals
Share With Others
Find Us On Social Media