Pet Fostering and Sponsoring
Pet Fostering and Sponsoring
By Susan Donaldson, B.A. (Hons), Animal Campaigner
Pet fostering and sponsoring is where you temporarily look after an animal in your home, until it finds a permanent home. If you are fostering a wild animal, it is until it goes back in to the wild. Animal fostering saves lives. You can also save lives by sponsoring either an animal, or a rescue space.
Millions of unwanted pets are destroyed every year due to being abandoned or given up by irresponsible owners. They end up on death row in local authority pounds. They need rescue spaces to be available at "no kill" animal rescues in order for their lives to be saved.
Sadly, not enough pets are adopted from the rescues, as many people choose to buy newly bred pets instead. This means there are nowhere near enough rescue spaces to save the lives of the animals who need them.
Some Lucky Dogs Have Pound Pullers Trying To Save Their Lives

In the UK, animals are held by the local authority pounds and shelters for seven days, except in Northern Ireland where it is five days. In the US, where the problem of abandoned dogs is worse, it can be as little as 72 hours.
If it looks unlikely that the dog will be claimed, then towards the end of that time, some lucky dogs have pound pullers who try to find them life-saving rescue spaces.
By Fostering You Provide An Extra Life Saving Rescue Space
Not all animal lovers are in the position to adopt pets. However, there are many other things you can do to help save the lives of these innocent animals. This includes pet fostering or sponsoring.
By pet fostering, you provide another rescue space in your home until the animal is re-homed permanently. So many pound animals are put to death terrified, depressed and lonely, never having felt the love, comfort and security they so desperately craved.
If You Can't Foster, Save Lives By Sponsoring
You can sponsor an animal, or sponsor a rescue space, sometimes called 'emergency boarding', meaning more animals can be saved from death row pounds.

Pet Fostering and Sponsoring
Without A Foster Home I Would Have Been Euthanised At The Shelter
By Pet Fostering, You Will Save Innocent Lives
Most animal rescues and re-homing organisations are crying out for people to do some pet fostering. They need fosters to help them save more animals in desperate need. The more foster homes the rescue organisation has, the more innocent lives they can save.
Some rescues operate entirely with the use of foster homes. Even rescues that have their own premises to house animals usually still need foster homes in addition. Animal lives depend on it.
Here are 10 Reasons to Foster a rescue Shelter Pet.


Pet Fostering and Sponsoring
Without A Foster Home, I Wouldn't Be Here Right Now
---
Why Are Foster Homes Needed?
Shelters and rescues regularly have animals that are finding life away from a home environment extremely stressful. This can result in their health going downhill.
For instance, some dogs suffer from terrible kennel stress and would do much better in a home environment.
Animals such as cats and dogs often show the best of their personality when in a home environment. They sometimes show their worst side in kennels or catteries.
Being with a foster means assessments can be made of the animals in a home environment. This better reflects what the animals' personality would be in their forever home.
If the animal has had any surgery, including neutering, it will need to recuperate. It is much safer for an animal to recover in a foster home.
If the animal is a baby, it may need round the clock care in a foster home.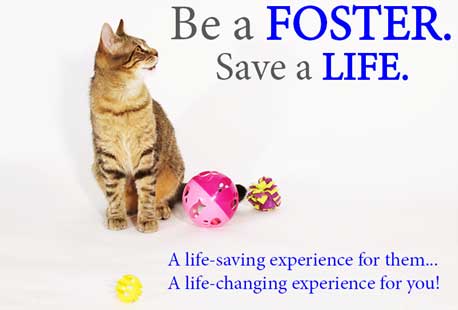 Pet Fostering and Sponsoring
Be A Foster, Save A Life
---
Why Do Big Rescues With Their Own Premises Need Fosterers?
Some rescue and re-homing organisations rely completely on foster homes to provide life-saving rescue spaces to animals.
Others have their own premises where they give animals rescue spaces. They are usually full to bursting point, so they need foster homes to provide additional rescue spaces.
Furthermore, if animals have been neutered, or had other surgery, it is preferable that they recuperate in a foster home. Many pets are very distressed in a kennel or cattery environment and need a foster home to begin to thrive.
There is a huge pet abandonment problem and not nearly enough rescue spaces. More people need to adopt pets, rather than buy newly bred pets, so more rescue spaces are freed up.
Rescues have to turn countless animals away every day. These animals will often end up being put to death. People can help provide extra life-saving rescue spaces by pet fostering.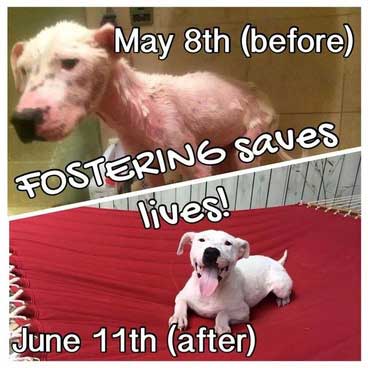 Pet Fostering and Sponsoring
Fostering Saves Lives
---
Foster All Kinds Of Animals
Rescues need people to help with fostering for a whole range of animals. It depends on what kind of animals the organisation deals with.
If fostering for a wild animal rescue, you will foster wild animals. The animal may need to recuperate from an illness or injury.
Maybe a baby animal has been orphaned or abandoned by its mother. It may not be old or strong enough to survive on its own in the wild.
Only when it is strong enough, after being cared for by a foster, will it be returned to the wild.
When pet fostering for a rescue that deals with cats or dogs, or small animals, these will be the animals you will look after.
If you have any land and facilities for horses and ponies, you could foster for a horse and pony rescue.
You may have knowledge and experience of certain animals, and that could be valuable. However, rescues should provide training where needed.
Below is a picture of Margaret Clurow, a volunteer for Cretan Animal Welfare Group, with a rescued little owl. Once rehabilitated, animals are returned to the wild whenever possible.
---
Pet Fostering Has No Cost And Great Reward
When pet fostering, you are not usually expected to spend your own money on the animal. Rescues will normally supply, or pay for, necessary items. They will also pay for necessary veterinary care for the animal.
However, many people pet fostering do choose to use their own money to spoil their fostered animals.
Although it is not usually expected, some people choose to willingly contribute to the cost of necessary pet fostering activities. If you'd like to, it is of great help to the organisation. It will free up their stretched funds to help other animals in desperate need.
There may be the odd animal rescue who do ask fosters to pay expenses of pet fostering. However, it is not usual practice.
During your time pet fostering, you may become particularly attached to your foster pet. If you want to adopt it, you will usually be able to do so. That is, as long as it has not been promised to someone else.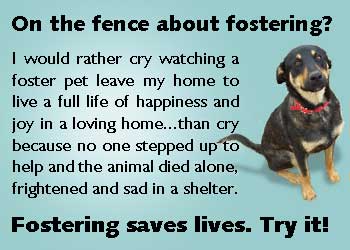 Pet Fostering and Sponsoring
Fostering Saves Lives, Try It
---
My Own Experience Of Pet Fostering
I can vouch for the feeling of achievement that comes from pet fostering. My experience of pet fostering has been with dogs. It can be a challenge, but it is very rewarding in many ways.
Saving A Life
Many dogs and cats are being put to death every day in pounds because too many are abandoned by irresponsible people.
When fostering a domestic animal like a dog or cat, it is rewarding to know that you have provided an extra life-saving rescue space, that is in such high demand.
Stopping An Animal Feeling Frightened And Confused
Many animals go in to foster care feeling unsettled, frightened, confused and insecure. Many have been in kennels and have found the experience extremely distressing.
It is rewarding to know that you are helping the animal feel more secure by showing it kindness, patience and love.
Making The Animal Happier And More Adoptable
Many dogs require training, and you are helping it become more adoptable by giving it some.
You may sometimes be sad to see the state the animal is in to begin with. However, it is very satisfying to see the healthier, happier, more confident, secure animal they have become because of your care.
Forever Home
When they are ready to go to their forever home, there are mixed feelings. On one hand, you have grown attached to them and are sad to lose them. On the other, you know that they are going to their forever home now, and another innocent life can be saved in their place.
Wild Animals
With wild animal fostering, you may have happy and sad experiences. You will feel happiness at seeing animals come through veterinary treatment or injury.
You will feel sadness when, despite your efforts, an animal could not be saved. But without you trying, none of them would have a chance.
We did pet fostering for Monty and Sammie. They are now in a loving home together. Monty was completely wild, untrained, and distressed at first. He was a lot less so when he left us.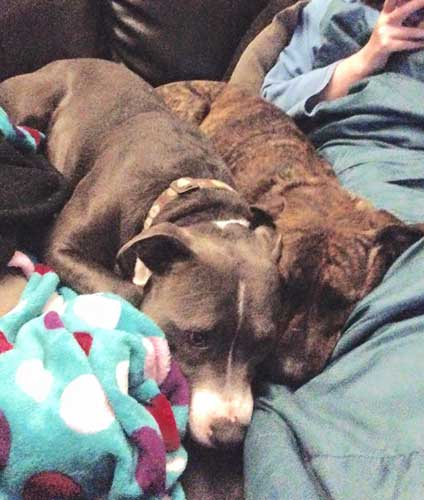 Pet Fostering and Sponsoring
My Foster Dogs Monty and Sammie
---
Pet Fostering and Sponsoring
Social Advantages Of Fostering
By volunteering to foster animals, you may become part of an animal fostering community of people. Through the organisation, you are likely to meet, and become friends with, people who have a love of animals in common with you.
There are a number of ways you could get to know people within the organisation. You could mix with them, and the animal-loving public, at fundraising events.
You could go to any of the rescue organisation's meetings that interest you. There may be a social media group for the rescue's pet fosterers – and if there isn't, start one yourself. You could also go to any social events the rescue hold. Also join Facebook pages run by the rescue.
---
Think You Would Like To Foster An Animal?
If you feel you may like to foster an animal, you can find rescue and re-homing organisations near you, that you can contact with a view to pet fostering, on the Find A Rescue Pet page.
For information about adopting an animal, please see the Adopting Rescue Pets.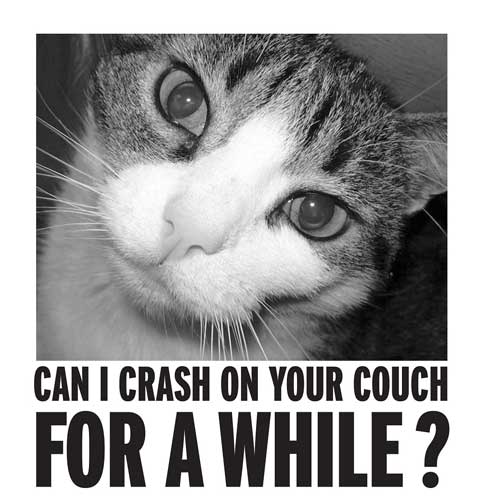 Pet Fostering and Sponsoring
Can I Crash on Your Couch For A While?
---
Sponsoring Animals – Rescue Places
Every day in council run and municipal pounds and shelters, time runs out for the dogs that have not been claimed by the owners, or rescued within the time allowed (7 days in the UK, as little as 72 hours in some states in the US!).
Sadly, there are nowhere near enough rescue spaces, so only a fraction of these dogs are saved.
Another way of creating rescue spaces to save these dogs' lives until they find a home, is to sponsor a rescue space, which is often called "emergency boarding".
Rescues that save dogs from death row pounds, such as Safe & Sound, are always desperate for more people to sponsor a rescue space.
This can be an ideal way of helping if you want to help save innocent lives, but cannot adopt / foster at home.
---
Sponsoring Animals – Pets
If you are unable to foster or adopt a pet, you can become a shelter pets best friend by sponsoring them.
Some pets at "No Kill" rescues sadly never get a home. This may be because they have been abused in the past and are too fearful of humans to be suitable for re-homing.
It may also be because they have always been overlooked when people have come to adopt rescue pets. This may be because of how they look, being old, being too shy/frightened to come out to see people, being stressed and not showing their true character in that environment, or for other reasons.
Many shelters ask people to sponsor these long stayers, or sponsor a kennel. This helps the shelter or sanctuaries look after the animals for the rest of their lives. It also frees up the organisation's funds to rescue more animals from abuse and death.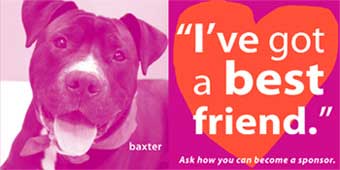 Pet Fostering and Sponsoring
I've Got A Best Friend
---
Sponsoring Animals – Wild
Apart from rescue pets, there are plenty of other types of animals to sponsor: There are farm animals in sanctuaries and animals in the wild that you can help save by sponsoring them.
With wild animals, this is sometimes referred to as adopting them, although obviously, you cannot take them home!
There are many different types of animals available to sponsor. By sponsoring any animal, you help to save its life. Whether you sponsor a rescue pet, farm animal or wild animal, you will have the reward of knowing that you have helped save an innocent life, plus you will usually receive news about the animal you sponsor and the organisation you are sponsoring the animal through.
You can sponsor animals in the wild, through World Animal Foundation. The Aspinall Foundation is another organisation you can sponsor a wild animal through.
---
If You Would Like To Adopt A Rescue Pet…
If you would like to consider adopting a pet, you can find out further information on the Adopting Rescue Pets page.
To help you find your perfect pet, you can find links to many animal rescue websites all over the UK and US showing animals available for adoption, sponsorship and fostering, on the Find A Pet page.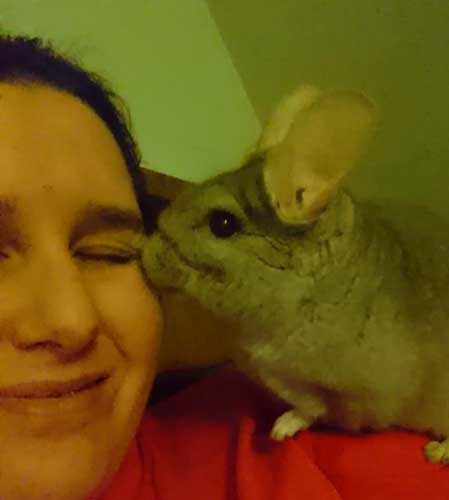 Pet Fostering and Sponsoring
Helen Wylie with one of her adopted chinchillas
Credit: Helen Wylie
---
Other Ways You Can Help
There is a huge problem of animals being put to death because they are abandoned by owners who did not use foresight when they got them, and because too many people buy and breed new pets instead of adopting abandoned animals.
You can help by raising awareness of animal adoption, and of the issue of pet abandonment and bad breeders, by sharing the information from this site on social media. Making sure people become aware of these issues will be instrumental in helping to stop animal suffering.
If you cannot help stop the deaths of innocent pets by adopting, fostering or sponsoring, you can help by cross-posting pets looking for rescue spaces. Animal rescues are also usually in need of volunteers to help in a variety of roles.
Another way of helping save their lives, if you can afford to spare any money, is to donate at this website: Pounds For Poundies.

Pet Fostering and Sponsoring
Pounds For Poundies Logo
Even a small donation could mean the difference between an abandoned pet being saved or put to death. Even just the price of a cup of coffee at a cafe, or a bottle of fizzy pop. The animals on the site also need cross posted.
---
How To Effectively Spread Awareness Of Animal Rights
Do you want to make the world a kinder place by helping stop terrified animals being put through horrific cruelty? By helping to change the habits of consumers by raising awareness, you can do that.
Spreading the animal rights message can be very emotionally draining and distressing. Have a look at the best Vegan activism page to find out how to be an effective advocate for animals, whilst making sure you keep your mind healthy and happy. Do what you can to find more ways to spread awareness.
---
Many Other Ways You Can Help Stop Animal Suffering
If you cannot adopt, foster or sponsor, there are still things you can do.
Cross Posting
You can help by cross-posting pets looking for rescue spaces on social media. If you have any spare cash, you can donate to the animals rescue funds.
You cross posting or donating could be the difference between the animal's life being saved or not.
Animal Rescue Volunteer
Volunteers are vital to animal rescues to keep them running. You can help in a variety of roles.
Raise Awareness Of the Issues
Raise awareness by sharing the information from this site on social media. For instance, you can share information about animal adoption, the issue of pet abandonment, and bad breeders. By doing this, you will help stop animal suffering.
Another way of raising awareness of animal cruelty issues is by educating people with what you wear.
Many Other Ways…
This website lets you know of many additional ways to help stop animal cruelty.
There are ways  that will suit everyone, no matter what their personality, lifestyle, energy level, or circumstances.
Share these ways with other people, to get more people helping animals.
Educating people about the cruelty that goes on is another way to help. You can find this information in the Types Of Animal Cruelty section of this site. Share it on social media to help animals.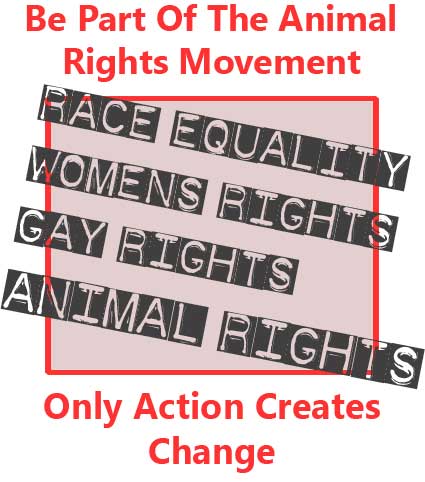 Be Part of the Animal rights Movement
Share With Others
Find Us On Social Media